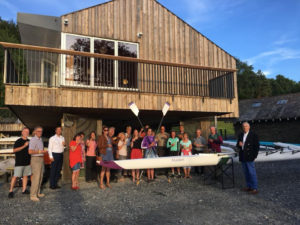 Welcome to Windermere Rowing Club
Windermere Rowing Club is lucky enough to row on the most iconic stretch of water in the UK. When the early morning autumn mist is gently covering the water and the surrounding hills are a golden blaze of turning leaves it is hard to believe that there is anywhere better in the world!
That is probably why we have over 10 members who enjoy rowing on Windermere in our fleet of singles, doubles and quads throughout the year regardless of whether you have your eye on winning a summer regatta or joining other members for a gentle paddle.
The club competes in events throughout northern England and hosts our round of the Explore racing calendar.
Windermere Rowing Club has great facilities including our new boat house and club house over looking Windermere, rowing machines, changing rooms (with hot showers and heated floors!), committee rooms and car parking facilities.
Please take a look around our website and contact us if you'd like to learn more about us.
History
Windermere Rowing Club started life as two quads in a field at Low Wood Marina, just north of Windermere town. The club initially started life as a sister club of Lakeland Rowing Club, a club that rows from Derwent Water. From the initial Windermere site, a small team of keen members and experienced rowers started running Learn to Row courses from a marina at the north end of the lake. These courses proved popular, so with an ever expanding membership base, the club moved to its home in Fell Foot Park, a National Trust estate. From this site, the club has access to both the lake and River Leven.
After a successful summer in 2015, the Windermere branch of Lakeland rowing club established itself as an independent club, and so Windermere Rowing Club was born.