Competitive rowing
Windermere Rowing Club has a strong squad of members who train and race in our fleet of fine boats. During the summer we enter regattas as far afield as Nottingham, Durham and Manchester whilst during the winter we compete in many of the local Head races. Recently the club has had a number of successes at the British Rowing Masters event, City of Lancaster Regatta and Head of the Lune.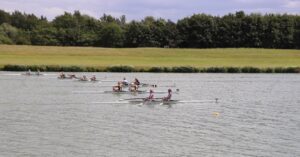 Explore Series
For those who are new to racing we are keen visitors to the local Explore Series which is run in the North West.
Recreational rowing
Rowing isn't just about racing up and down as quickly as possible! We are lucky to row on one of the world's most beautiful lakes and enjoying it whilst also taking some exercise is the best of both worlds.